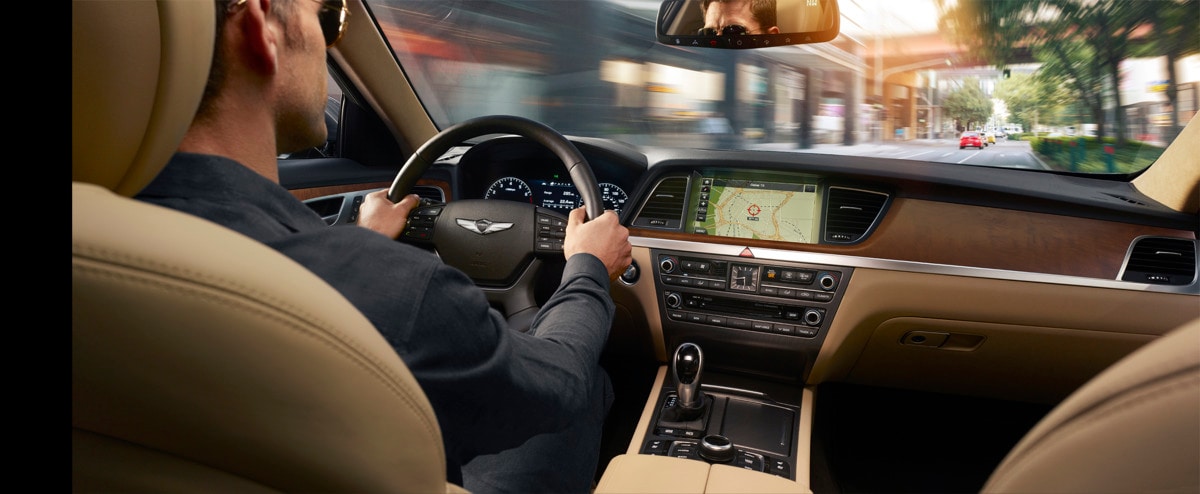 Explore Genesis Financing Options and Resources at Genesis of Irving
Navigating the process of buying or leasing a new Genesis is easy when you have our team of friendly auto financing experts at your side here at Genesis of Irving. Our team is dedicated to helping you get the most out of your auto financing experience and guide you along every step of the way so that you can make every move with the utmost confidence. Whether you're looking to purchase a new car, sign a lease, or you're still weighing your options, you can count on us to lend our expertise.
Explore Genesis Financing Resources
Here at our dealership, you can take advantage of a wide range of resources to help you along your journey towards finding your dream car and bringing it home. Dive into our brief overview of some of our financing resources to learn more!
Financing Application: When you apply online for financing, you can save yourself some time at our dealership, dodge some paperwork, and help ensure that you get the best possible financing solutions. When we receive your application, our team will work hard to pin down a solution that works best for you.
Network of Lenders: Genesis of Irving is part of the Freeman Auto Group, meaning that we have access to a vast network of dependable lenders. More connections mean better options for you.
Trade-in Value Tool: If you're looking to trade your vehicle towards a new one, our handy online tool can help you find an estimate that you can use to plan your next move. With your value estimate in hand, you can have a more complete picture of what your budget might look like when you move forward with another purchase.
Genesis Incentives: Here at our dealership, you can explore and take advantage of a wide selection of Genesis incentives that provide exciting opportunities to save on Genesis purchases and leases. So, if you're hunting for the best deals on your favorite Genesis models, you can find them in one convenient spot.
Single-Pay Leases: One of the many advantages of leasing a new Genesis at our dealership serving Dallas County is that you can opt for single-pay leases. Single-pay leases allow you to pay for your lease upfront instead of in monthly installments so that you can enjoy your Genesis lease and the savings that come with it without having to worry about monthly payments.
Protection Packages: We offer a variety of protection packages to give you greater peace of mind as you move forward with a purchase. Here at our Genesis dealership near Fort Worth, we want to eliminate as many of your financing worries as possible, and we offer several ways to help you maintain confidence as you move forward with your Genesis purchase. Feel free to get in touch with us to learn more about our protection packages!
When you choose to finance or lease a new Genesis model near Grapevine, you choose to drive one of the most exquisite vehicles. So, we aim to provide an equally stunning auto financing experience as you explore your options and get ready to move forward towards finding the best fit for your needs. With a vast array of financing and lease options at your disposal and easy access to all the information you need to enjoy a stress-free financing process, you'll soon be on your way towards driving your favorite Genesis vehicle home.
Learn more about leasing or financing a new Genesis vehicle near Coppell today when you contact us at our Genesis dealership. We'll be happy to answer questions and help you take the next steps!
ll things related to the Genesis brand. Whether you're searching for the perfect new car or looking for a reliable auto maintenance team who knows your beloved vehicle inside and out, you can always count on us to deliver exceptional service.
Find the Perfect New or Used Genesis
Drivers in the Fort Worth area know that they can find a vast selection of exquisite new and used Genesis models to explore right here in the Fort Worth Metroplex. Whether you have your eye on a new Genesis G70 or a used Genesis G80, we can help you find the perfect fit.
We can even you find affordable auto financing options, help you save time with online financing applications, and walk you through unique options like single-pay leases.
Keep Your Genesis in Tip-Top Shape
Keeping your Genesis in excellent condition is easy thanks to our state-of-the-art Genesis service center serving the Grapevine area. Here you can schedule Genesis service, shop for Genesis parts, and find other helpful resources that you need to keep your car running smoothly. We even offer an array of other amenities, such as a dedicated service valet, a pickup service, a children's area, a lounge with refreshments and entertainment, and much more.
Contact Us Today
We're eager to help you realize all your automotive dreams, so please feel free to visit us at our Genesis dealership serving Coppell. We hope to see you soon here at Genesis of Irving!